Brown Bear meets…Gorgon City!! Interview and Podcast Mix!
Gorgon City is the fusion between Foamo and RackNRuin, two supremely gifted producers who are responsible for some of the biggest tracks in underground UK house and bass music. The UK underground scene has been dominated by blossoming of the House/Bass music crossover, and these guys are both directly in the centre of the storm surrounding it.
Foamo (Kye Gibbon) is a major player in the scene, having made a name for himself with some epic releases on various labels such as Skint, Fat! and Wearhouse. When he is not busy in the studio he can be found performing around the world and holding down residencies at super-clubs such as Space, Ibiza. He also DJ'ed at our January 2012 party – and yes, he absolutely killed it!
RacknRuin (Matt Scott) is "one of the most exciting producers working in the bass scene" according to DJ Mag, and there is no denying that. With some of the scene's most innovative releases on the ever growing Black Butter Records and some heavyweight remixes under his belt, it is obvious that there is still more to see from this talented producer/DJ.
Together the pair have created a dance act which has been responsible for some of the biggest anthems of 2012 including a remix of 'Feel The Love' by Rudimental which smashed the festival circuit this summer. Their creativity and sound is second to none and that is why we've invited them down for their first show in the West Midlands to headline the Warehouse for our 2nd Birthday.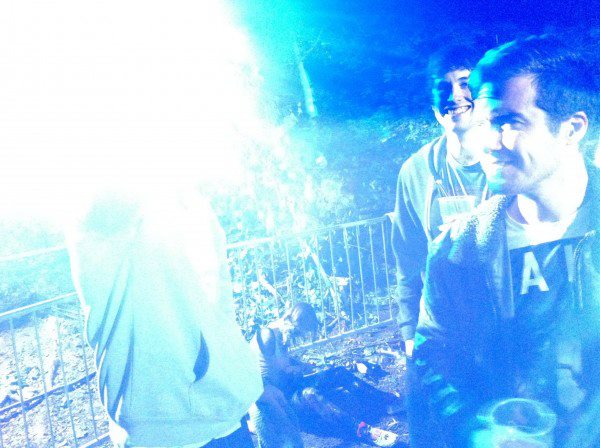 In the run up and hype for the event we managed to catch up with the busy pair and had a brief chat about the past, present and the future. They also recorded the first mix for our brand new podcast series which proves that they are guaranteed to cause mayhem on the dancefloor on October 5th!
Not much is known about how you two came together. How did Gorgon City come about?
A while ago we chatted over twitter and thought it would be fun to make tunes together and combine our sounds. It worked well and we're both happy to say that we stuck with it!
You've both been busy playing out as your separate production outfits (Foamo and RacknRuin). What is the average day like for established producers such as yourselves?
Ten to spend Monday in bed recovering from the weekend and Tuesday to Friday in the studio writing music and recording vocalists. The weekend is all about the gigs…..and trying not to miss flights and trains!
There is a current trend to place certain sounds and producers under one genre specific umbrella. If you had to what genre would you put the Gorgon City sound into? How would you describe your music?
It's simply deep, banging house mixed with creative melodic basslines and vocals.
The Seedy gang recently caught you both separately at Outlook Festival and Bestival. How has the Summer season been for both of you? Lots of gigging in between producing?
RacknRuin: Festival season has been too good and we've managed to play at loads in the UK and also a few abroad.
Foamo: I've been in Ibiza a lot as a resident at Space for the Chew The Fat nights which go on there once a month.
Kye, you played for us back in January. How was your first Seedy Sonics experience?
It was messy and I've told Matt how sick the whole party and vibe is. We're both looking forward to your 2nd Birthday party!
You're playing a DJ set for the Seedlings. Out of interest how does the Live set up work between you both?
We run Ableton on a controller and use a Korg synth, along with loads of software FX. We do live edits of our tracks and throw exclusive accapellas over the top. It's a lot fun and definitely gets the crowd interested but also keeps the dancefloor moving.
Anything exclusive for the Seedlings when you DJ on October 5th?
The set will contain loads of new Gorgon City tracks we've working on recently that no-one has heard before. They'll be released in the coming months so don't worry!
What does the future hold for Gorgon City? Any exciting collaborations or EPs or tours you can tell us about?
Yes we're working with loads of vocalists that we're excited about and working toward an album. It should be finished pretty soon as we're working fast.
In my opinion, some of your best work has been your remixes (Disparate Youth, Feel The Love & For My Sins) which have destroyed underground raves over the past few months. Are there plans for the future to remix some of the higher profile artists in the industry or is that something you'd like to steer clear of?
If the right remix comes along and we want to do it then we will do it, regardless of who it's for. For now, however, our vibe is to concentrate on producing original tracks.
Who have been the biggest creative inspirations behind your music?
We both had a similar musical upbringing with garage, jungle and grime so that has been a big influence on the combination of our sounds. Also all the sick current house producers killing it at the moment.
Anyone you'd like to give a shout out to?
Shout out to the Seedy Sonics crew for having us down and the Seedlings for partying. And of course, everyone at Black Butter Records who are putting out our music at the moment!
….and finally, you're the debut guests on our brand new podcast series. What's the story behind the mix?
The mix we created features a good blend between our own stuff and tunes we're feeling at the moment. It's a good representation of the Gorgon City sound-scape and hopefully will provide a great start for the podcast series!
Interview by Shaneil Patel
*****07/10/2012*****
Here's a photo of Gorgon City smashing the party! They killed it and we've already got them locked in for another Seedy Sonics event in 2013 [Not in Birmingham however


]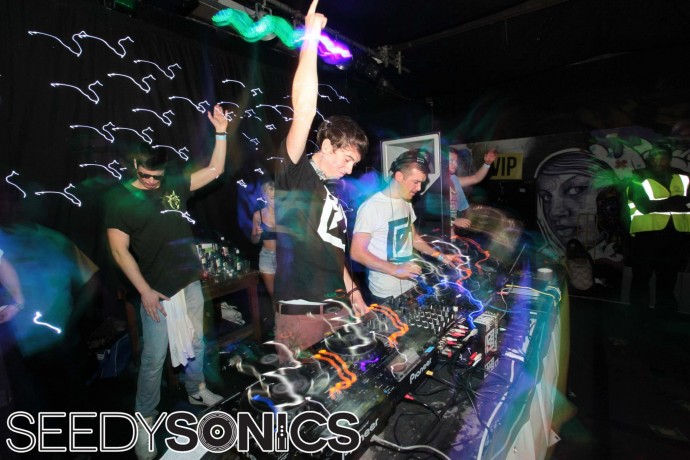 One Response to Brown Bear meets…Gorgon City!! Interview and Podcast Mix!