Brum Notes X Seedy Sonics
We were delighted when Brum Notes magazine approached us for a quick Q&A session.
Brum Notes Magazine is the definitive guide to music and lifestyle across West Midlands, with 10,000 copies printed every month.
You can pick up the latest issue for free from more than 400 pubs, clubs, bars, venues, shops or other cultural hotspots in Birmingham, the Black Country and beyond.
Go to page 28 on the Digital edition of the Magazine to see the published article or scroll down for the full interview in all its' glory!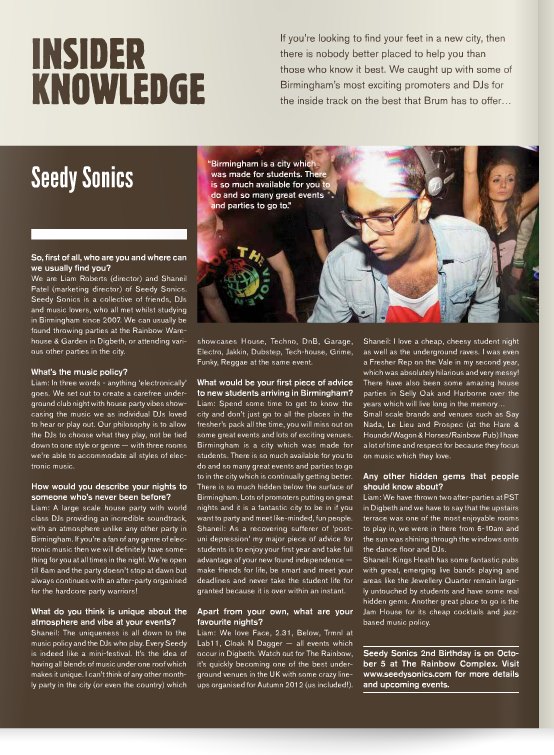 So, first of all, who are you and where can we usually find you?
We are Liam Roberts (Director of Seedy Sonics) and Shaneil Patel (Marketing Director of Seedy Sonics). Seedy Sonics is a collective of friends, DJ's and music lovers, who all met whilst studying in Birmingham since 2007.
We can usually be found throwing parties at the Rainbow Warehouse & Garden in Digbeth, attending various other parties in the city and you can also find us through the virtual realm of the internet. Check out our Facebook page/Twitter/Website/YouTube!
When did Seedy Sonics first start and what was the inspiration behind getting started?
Liam: We threw the first party in October 2010. Basically myself & Mike Iggy aka Mali & Iggy-Tech were working in Birmingham during the summer break and after getting a taste for DJing at house parties and at the Rainbow for parties such as Naked Lunch & Dubmatic, we spent our free time planning to put on an event for everyone when the new university year started up Seedy Sonics was born.
We wanted to create a unique party; with a vibe similar to free spirited Ibiza but also a no holds barred underground rave (like a house party). We felt that kind of free spirited party was lacking in many of the underground nights found in not only Birmingham but also the rest of the UK.
What's the music policy?

Liam: In three words – anything 'electronically' goes. We set out to create a carefree underground club night with house party vibes showcasing the music we as individual DJs loved to hear or play out…We've definitely done that. Our philosophy is to allow the DJs to choose what they play, not be tied down to one style or genre – with 3 rooms we're able to accommodate all styles of electronic music which makes our residents DJs so pumped for playing at a Seedy event.
Finally and most importantly we wanted to create a buzz within the crowd – from the off all we've wanted was for everyone to have the best time possible! The buzz and excitement which is built up before each event is definitely released as soon as our punters step through the doors of the venue!
Shaneil: To give you an idea of what we love at Seedy – the launch party in October 2010 featured 6 hours of music starting off with dubstep and old school garage before moving into the industrial sounds dark, techy dnb. When the party was in full flow the music policy then switched to various elements of electro, house and techno.
As the night has grown from an intimate one room event into a fully blown 3 room warehouse party we have been able to showcase all sorts of electronic music styles to its fullest at every rave. In the Warehouse we showcase our headline acts, such as Foamo, Doorly, Break, Reso, Phaeleh, Plastician, Freestylers, Marco Del Horno, Maribou State, Reeps One & many more, supported by residents Mali (Liam), Olee & Mr Morri. You can expect to hear anything from tech house, electro house, dubstep, drum & bass and occasionally an anthem like Bittersweet Symphony. It's a real party, carnival-esque, mainstage festival sort of atmosphere.
Liam: The Garden (room 2 under the railway arch) is a hotbed of the most underground bass music where you'll hear anything from Garage to 808 Juke to DnB to the UK House/Bass crossover, with residents Mistanoize, LFM & Brown Bear (Shaneil) always on hand to provide the soundtrack for the bass hungry fans.
The third and possibly the most infamous room of the party is the Techno Morgue (Inner Warehouse), a favourite with fans of deep house and techno. Iggy-Tech has basically created a party within the party and in this room you can really feel the house party vibes, people have been seen (and photographed) waving around pieces of art and dancing on speakers. Anything (and we mean ANYTHING) goes in the Techno Morgue!
Shaneil: Music is the most important aspect of Seedy Sonics. We are a diverse brand and accommodate so many genres, tempos and styles within one following. It's so fulfilling that we set out to throw a good party and though we've had large success we're even hungrier to further fulfil that musical enjoyment out of every event.
How would you describe your nights to someone who's never been before?
Liam: A large scale house party with world class DJ's providing an incredible soundtrack, with an atmosphere unlike any other party in Birmingham. If you're a fan of any genre of electronic music then we will definitely have something for you at all times in the night. We're open till 6am and the party doesn't stop at dawn but always continues with an after party organised for the hardcore party warriors!
What do you think is unique about the atmosphere or vibe about your events?

Liam: A lot of the people who attend are students, young professionals and those looking for a good night out. As a result of that they tend to be carefree and just want to turn up, listen to some quality tunes and party hard until the sun comes up (which is exactly what we as 'carefree music enthusiasts' want to do).
Many of the people who you would find at a Seedy Sonics event have attended before, so there is a tight knit community feeling within the events made up of a solid interest for electronic music and a want for having the best experience.
Every event is special because we don't throw parties as often as the other regular nights in Birmingham (ours are monthly) and the hype for each party has blown us away. Our online following of 'Seedlings' are incredible people, constantly liking/sharing posts and Tweeting us. That replicates within the vibe of the night, you'll see an amalgamation of friendship groups all having an amazing time together. Once you've gone to a Seedy Sonics event, you'll create bonds with people and become part of the extended Seedy family!
Shaneil: The uniqueness is all down to the music policy and the DJs who play. We're blessed to be able to throw our events at the Rainbow Warehouse because it allows us to have 3 large rooms which are open and spacious enough to keep conflicting genres from interfering with one another. We've got to that size where you can't have strictly Techno DJs playing before DnB DJs. We keep the music policies separated amongst the room and have 3 parties going off within one venue. It's incredible! To go from the Morgue where it's a sweaty, deep house vibe to be thrown into the middle of a jungle set under the Archway. Every Seedy is indeed like a mini-festival.
It's the idea of having all blends of music under one roof which makes it unique. I can't think of any other monthly party in the city (or even the country) which showcases House, Techno, DnB, Garage, Electro, Jakkin, Dubstep, Tech-house, Grime, Funky, Reggae at the same event. Many might switch up their music policy for different dates but we have them all at the same time under one venue. We're blessed again to have such an open-minded crowd who allows us to showcase our passions for all electronic music. It is essentially a festival within a club environment (without the ridiculous festival prices), which keeps drawing people back and also introducing lots of new faces – that's what makes it unique!
What would be your first piece of advice to new students arriving in Birmingham?
Liam: Spend some time to get to know the city and don't just go to all the places in the Fresher's pack all the time, you will miss out on some great events and lots of exciting venues.
Birmingham is a city which was made for students! There is so much available for you to do and so many great events and parties to go to in the city which is continually getting better.
Shaneil: As a recovering sufferer of 'post uni depression' my major piece of advice for students is to enjoy your first year and take full advantage of your new found independence- make friends for life, be smart and meet your deadlines and never take the student life for granted because it is over within an instant! And of course liberate you inner self at Seedy Sonics!
Apart from your own, what are your favourite nights/clubs/places to go?
Liam: We love Face, 2.31, Below, Trmnl at Lab11, Cloak N Dagger – all events which occur in Digbeth. Another favourite place of ours was The Arena, we all really enjoyed the Circo Loco in The Arena event earlier this year, the venue is really impressive and the guys at Rainbow put on a great show. Watch out for The Rainbow, it's quickly becoming one of the best underground venues in the UK with some crazy line ups organised for Autumn 2012 (us included!)
Shaneil: I love a cheap, cheesy student night as well as the underground raves. I was even a Fresher Rep on the Vale in my second year, which was absolutely hilarious and very messy! There have also been some amazing house parties in Selly Oak and Harborne over the years which will live long in memory…
I was always into my DJing and treasured DnB, Dubstep, Garage and House. Small scale brands and venues such as Say Nada, Le Lieu and Prospec (at the Hare & Hounds/Wagon & Horses/Rainbow Pub) I have a lot of time and respect for because they focus on music which they love and you can go to such an event and meet people who are strictly into that specific genre, which is always cool and something to bond over. In general The Rainbow Venues have always had many brilliant nights on; which is mostly down to music choice and the line-up. If I see a half decent line up for an electronic event then that will usually attract me to it to be honest.
Any other hidden gems that people should know about?
Liam: We have thrown 2 after parties at PST in Digbeth and we have to say that the upstairs terrace was one of the most enjoyable rooms to play in, we were in there from 6-10am and the sun was shining through the windows onto the dance floor and DJ's. Check the video on YouTube!
Shaneil: King's Heath has some fantastic pubs with great, emerging live bands playing and areas like the Jewellery Qtr remain largely untouched by students which have some real hidden gems. Another great place to go is the Jam House for its cheap cocktails and jazz based music policy.
Favourite thing about living in Birmingham?
Liam: It's cheaper than London yet has the same ingredients as our fantastic capital which makes it a wonderful city to live in.
Shaneil: The fact that I could walk to any of my mate's houses within 5-10 minutes…and get a cab to the city centre for £2 max!
What do you feel the state of the city's clubbing scene is now?
Shaneil: After a slight dip a 2.5 years ago (partially due to the closure of the notorious and well-loved Custard Factory) we feel that the city's underground scene has really picked up in the last year, with a number of Rainbow Showcase events that have brought different promoters from around the city together to throw large scale parties in the heart of the city centre.
Liam: Small scale venues and promotion brands keep the scene alive, diverse and vibrant; the opening of Lab11 this year has revitalised the city's small scale parties which we believe are just as important as the massive events which occur. It's been a breath of fresh air to see venues such as the Hare & Hounds in Kings Heath showcasing acts like Julio Bashmore, Theo Parrish and Shogun Audio, who 2 years ago would have probably only been booked by bigger promotions to play at larger venues such as HMV Institute and The Rainbow.
Shaneil: We believe that there is something here for everyone! Musically, it is a very diverse city holding host to some of the biggest UK brands in electronic music (Raveology – DnB / Godskitchen – Trance / Below – Techno & House). Large scale events like The National Drum and Bass Awards have really put Birmingham on the map over the last few years and recently Circo Loco in The Arena in Digbeth was an event which captivated Europe's Techno and House scene!
Liam: There is so much hidden below the surface of Birmingham. Lots of promoters putting on great nights and it is a fantastic city to be in if you want to party and meet like-minded, fun people.
There seems to be quite a counter-culture scene that has arisen in recent years, people reacting against the mainstream or superclub scene and just having good parties without worrying about commercial success or mainstream attention. How do you see it yourself?
Liam: There's definitely been an increase of people with a 'do it yourself' attitude throwing their own events. Reasoning behind this is to do with the shift in popular culture towards electronic dance music.
The electronic dance music scene is receiving more recognition at the moment than ever before, more and more pop stars are drafting in DJ/Producers to produce their next hit record, this can only be a positive thing in our eyes as we believe that as more people like electronic dance music, the more people will want to go and experience it in a club environment.
Shaneil: The problem with electronic dance music becoming ever more popular in the mainstream is that there is so much now going on. The club culture has become slightly saturated, with many similar events popping up days within one another which isn't healthy for promoters or the scene in general and actually bores the punter and takes away the unique aspect of the underground.
We just continue to throw parties which allow us to showcase what we love – underground, electronic music and we continue to attract those people who want to have a good time and share that interest.
Where do you see yourselves in 1/2/5 years time?
Liam: We have some big plans for the next year with a forthcoming Record Label and some festival appearances in the UK and overseas.
Shaneil: We hosted a 3,000 capacity Street Festival in June 2012 and that is something we want to do in the future – a Seedy Sonics festival. Whether that would be abroad or in the UK is yet to be seen. Our calendar is quite busy at the moment and we have expansion options available but the immediate plan is to keep doing what we're doing and see where it goes because we're really enjoying ourselves at the moment.
Any big plans for Seedy Sonics over the coming months?
Liam: We have our first show in London hosting the second room at Troupe at Pulse, alongside Loefah & Bondax, a show at Shambala Festival, a show at Outlook Festival, lots of exciting collaborations with the Rainbow, Face, 2.31 and a number of promoters from around the UK, such as Flux, Dollop, Licked Beatz & Get Low and a few others in the pipeline.
Shaneil: I'm looking forward to travelling up the motorway every other weekend for a Seedy related gig. Our online presence has naturally become big but I'm looking to expand that further with a few projects I'm working on from London. We've got a new podcast series planned and like Liam said some fresh collaborations with other promoters around the UK and Europe.
You were Birmingham Uni students yourselves weren't you? Any advice for the freshers?
Shaneil: Yeah we were mostly students at Birmingham Uni or at least met through mutual friends in Selly Oak. We've got DJs who regularly play at our events from Aston, BCU and other Universities.
Best advice we've got for the fresher's is to annihilate fresher's week, have a rest and then get yourself to Seedy Sonics 2nd Birthday on October 5th!
Can you just outline what events you have coming up for this autumn?
This Autumn we have 3 flagship Seedy Sonics events coming up. the dates are
October 5th, November 9th & December 7th.
We are also directly involved with the following events:
Seedy Sonics in the Cellar Door at Rainbow Showcase – 29th Sept
Seedy Sonics in the Warehouse at Annie Mac presents – 17th November
Any final thoughts?
Check us out through our website, read the blog, like the Facebook page and follow us on twitter.
Enter the competition we're hosting on Facebook for FREE Guest list for the rest of the year!
Come say hello to us when you come to Seedy (we're relatively normal, friendly folk)
And finally, Keep it Seedy.